Family Guarantee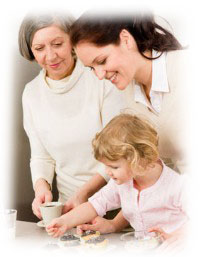 Do you have a family member that is willing to help you secure a loan?
It is quite common for a parent or spouse to guarantee the loan of a relative. This allows their family member to borrow the maximum amount.
There are a variety of ways that this can be done. Please read on to find out how you can take out a family guarantee today!
How much can I borrow?
If you have the support of a family guarantee, you will be eligible to borrow 100% of the purchase price!
This means that you do not have to save for a deposit or pay expensive Lenders Mortgage Insurance (LMI).
What is a family guarantee?
A family guarantee is where a family member agrees to undertake the borrowers loan obligations, in the event that they are unable to.
This means that if the borrower cannot repay their loan amount, the bank will call on the guarantor to meet any short fall.
How does a family guarantee work?
These arrangements are commonly made between a parent and their child. Generally, the borrower will have sufficient income to service the loan.
However, in most cases they will not have the funds to put toward a deposit and therefore will not meet the genuine savings requirements of most lenders.
The guarantor simply provides their property as security for the borrowers loan.
Given the high percentage of the property value that the bank is loaning out to the borrower, the added security helps reduce the risk to the lender.
The borrower
Although you may have a family member guaranteeing your loan, you must still be in a good financial position.
Most banks require that the borrower demonstrate an ability to service the loan without any help from the guarantor.
This means that the borrowers own financial situation is going to be assessed by the banks.
Some banks will credit score your loan application and will approve or decline your loan based on the results.
Types of family guarantees
A family guarantee can be either a:
Generally, most parents will offer their home as security for their child's loan.
The bank then has recourse to the guarantors home, in the event that they need to recover additional funds from the borrower.
A serviceability guarantee is where the guarantor will agree to provide a portion of their surplus income to help pay off the borrower's loan.
The assets your guarantor has and the strength of their financial situation will determine which guarantee they choose to provide.
Tell us about your situation! Our mortgage brokers can offer you some suggestions on which guarantee structure will best suit your needs. Call us today on 1300 399 056 or enquire online.
Who can give a family guarantee?
A family guarantee is defined by the borrower and guarantor being immediately related.
The acceptable types of family relationships for a guarantor home loan are:
Spouse (husband / wife).
Child / parent
Sibling
Most banks prefer these types of relationships due to the closeness between family members.
However, some non-conforming lenders are willing to consider other relationships.
Who is excluded from giving a family guarantee?
Typically grandparents, cousins, aunts and uncles are all excluded as being eligible guarantors for a family guarantee.
This is primarily because they are not considered as part of your immediate family.
If you are using another family member as a guarantor (e.g. an aunt, uncle, grandparent or sibling) then most lenders will not accept your application.
However, we do know lenders may accept this on a case by case basis. Please contact us for more information.
Features of a family guarantee
Each bank will offer a family guarantor loan with different features. Some of these may include:
Choosing a nominated amount for the guarantee, so that the liability of the guarantor is limited to a fixed sum.
Secured by a first or second mortgage.
Owner occupied or investment purposes.
No Lenders Mortgage Insurance (LMI) payable.
Depending on your needs and situation, some bank products will be better suited than others.
Our team can shop around for you to make sure that you get the best family guarantee loan available for your circumstances!
Get the right financial advice
A family guarantee is not something that should be entered into without a significant amount of thought and consideration.
Whilst the circumstances in which a guarantee will be called upon are rare, there is still a possibility that this could happen.
If it does, you are risking not only your guarantors property, but also your relationship.
Therefore, it is essential that you speak to financial and legal experts who can provide you with advice specific to your situation.
Making sure that your borrower is in a stable financial situation and can repay their loan, is a start.
Talk to an expert on family guarantor loans!
Taking out a family guarantee can be a very fraught exercise if you don't have specialist help.
Because of the relationship involved, it is advisable to speak to a team that knows how to structure the guarantee to ensure minimal risk to your guarantor and ultimately your relationship.
We know which lenders offer the best family guarantor loans on the market, with the most competitive rates.
Call us today on 1300 399 056 or enquire online and one of our specialist mortgage brokers will call you to discuss which loans are available for your situation.